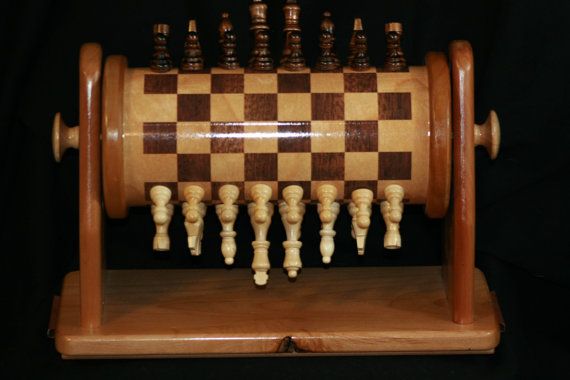 By Guest Blogger Eliana Silbermann
After you have mastered the different pieces on the board and the basic rules of chess, playing well brings no shortage of variation. Every game is different. In fact, this is illustrated by the "Shannon number" which calculated all the possible unique ways a game of chess can unfold.
Also Read :
The number is far larger than a quadrillion (a 1 followed by 15 zeros) and even bigger than a google (1 followed by 100 zeros). It is larger than the estimated number of atoms in the universe.
Even so, chess variants are popular as well, and can be fun twists on traditional chess. Most people may have heard about "suicide chess" and "Chess960" but how many of these wacky and weird chess variants have you played?
1. Quantum Chess: The game to play while studying for your physics exam!
This variant can only be played through software. It was designed to make the game of chess more unpredictable and make human players more equal to computer players, by disrupting the machines' algorithms and raw power.
In a regular game of chess, a pawn is a pawn and a rook is a rook. There is never any question. But quantum chess uses quantum physics to change this. A quantum chess piece exists in a superposition of two or more "states" (or configurations of properties): each state being a conventional chess piece. Players don't know if a certain piece will behave like a queen or a knight until it is moved. And it returns to its original state very quickly afterwards.
Evan Rabin, The National Chess Master Loves It When You Email Him
PLAY QUANTUM CHESS HERE
2. Atomic Chess: What can make chess even cooler? Explosions!
In this variant, all standard rules of chess apply, but capturing is a little different. Taking a piece results in an "explosion" where the two pieces are removed, as well as all pieces in the surrounding eight squares (only pawns remain).
Kings cannot capture other pieces. Because of this, the kings can move right beside each other with no check resulting. In most types of Atomic chess, the checked player must move the king out of danger (or blocking, or removing the attacking piece), but in one exception he or she can win by exploding the opponent's king. Sometimes check is not enforced at all, and the only way to win is exploding the opponent's king.
WATCH A SHORT GAME OF ATOMIC CHESS HERE
3. 3-D Chess: Calling all self-proclaimed sci-fi geeks!
This is a type of variant that is played on multiple boards. It is supposed to resemble modern warfare and allow for attacks above and below besides for those that happen on a 2-dimensional plane.
The original 3-D chess was called Raumschach (meaning "space chess" in German). It uses 5 boards measuring 5x5x5 each. Each player starts with two additional pawns than normal chess, and a special piece not used in conventional chess known as a "unicorn" (a mix of a bishop and another unorthodox chess piece called a "nightrider").
My Psychology of Chess with friends
While Raumschach was the first 3-d chess variant, the most famous is Tri-Dimensional Chess, and is seen played in Star Trek and the Big Bang Theory.

FIND 3-D CHESS SETS FOR SALE ON EBAY AND AMAZON
4. Bachelor Chess: This is a variant for all the hopeless romantics out there!
The board has seven files and six ranks. Here's how the pieces are placed:
Players win by checkmate or by marrying off the king to a queen. "Marriage" in this case means the king is placed adjacently to a friendly queen. They play otherwise according to standard chess moves. The king cannot be moved in marriage if he's threatened by check, unless it also removes the check.
Pawns must be promoted when they reach the sixth rank, however,any a rook, knight, bishop, or queen can promote or demote on the sixth rank as well.
THE CHESS GAME: TACTICS AND STRATEGIES
If the king's marriage is possible on the next turn, the situation is called "engagement" and it is polite to announce this.
PLAY BACHELOR CHESS HERE
5. Chess Boxing: Has anyone ever told you chess is not a sport? Well, now it is two of them!
In this hybrid game player fight with chess and boxing, with alternating rounds: 6 of boxing and 5 of boxing. All rounds last 3 minutes. After each round of chess, the position is recorded and then set up again before the next round of chess. A player can win the game either in the chess rounds or the boxing rounds. If all rounds (both chess and boxing) ends with equal scores, the player with the black chess pieces wins. This has never happened though.
Chessboxing is most popular in Germany, Russia, India, and Great Britain. It is a fully developed competitive sport with clubs and championships.
15 Things I've Learned in 10 years of Playing Chess
WATCH A WORLD CHAMPIONSHIP GAME HERE
There we have it. 5 of the weirdest chess variants out there. Whether you are athletic, or brainy there's a variant for you. What weird, wacky, or bizarre variants have you played or heard of? Leave a comment and tell us! Here at Chowdhury's Chess, we are always interested to hear of your chess educational ideas.
Here are some other popular chess blogs to follow:
Streatham & Brixton Chess Club
Chess improvement by effort (achoo!)
About the Author
Eliana Silbermann
"I'm a senior at University of Memphis. I'm studying psychology but working hard to start a career in marketing and advertising. I see myself as being both analytical (my degree is heavy in statistics, data analysis, research, and experimentation) and highly creative (I paint, I write, and I have a great eye for color and design). In both my future career and my personal life I hope to blend the two perspectives and strengths. I'm happy to share my experiences and advice about college, life, and figuring all of it out (although no one ever has all or most of the answers—certainly I don't!) as best we can.
Contact the Author
Facebook 
Linkedin
Email: slbrmann@memphis.edu